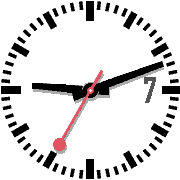 MonDIN 1.5, available now exclusively for the Pebble Time Round, adds settings page with options for seconds, date display colors and more.
The settings page use the new Pebble Clay config framework which allows the settings page to be offline, stored only on the phone.
MonDIN was initially created for my personal use when I first got the Pebble Time Round, in an attempt to mimic the Mondaine watches. It has seconds, date (in DIN Engschrift, of course) and Bluetooth disconnection warning with vibration and visual alert. And a discrete shadow under the hands, to give it a little depth.