DIN Time is a clean, glanceable, watch face available for the Fitbit Ionic, Fitbit Versa and the Pebble Smartwatches. The watch face is based on the DIN 1451 Engschrift typeface. Time is aligned along the right or left side so it will always be the first you see when you pull up your sleeve to glance at the time.
On the Pebble platform it consistently was in the top 10 of most liked watch faces, currently it holds #8, with nearly 80,000 installs.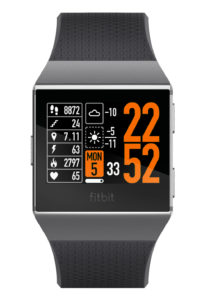 Features of DIN Time for Fitbit watches:
Time in big, easy to read, DIN Engschrift.
Fully customizable colors (Colors will reset to default every 2 hours during a 48 hour trial period. After that a one-time payment of $1.99 is required.)
Preset themes and share theme colors with other users!
Layout options for left or right-hand use, so you can glance in any way you like!
Most parts of the watch face can be hidden.
Weather, provided by Yahoo, with custom icons and temperature in Celsius or Fahrenheit.
Forecast (in dashed box) with expected high and low temperature for the day.
Tap the stats box for even more weather data.
Activity stats
Battery level

DIN Time for Pebble also has:
Day of week in many languages.
Bluetooth disconnect warning (with optional vibration).
Optional periodic vibration every 60, 30 or 15 minutes.
Quiet time (no vibrations) between set hours.
Fully customizable colors on color Pebbles.
Donations
DIN Time for Pebble is free to download and use. I have spent hundreds of hours on DIN Time, I had to learn the programming language from start, and released more than 15 versions since March 2015, each one adding features and improvements.  If you appreciate my work and want to say thanks please consider donating.
Support
Please use the support contact form or send me an email using the Contact Developer links on the respective platform.  But please check the FAQ first!
Where to find DIN Time
DIN Time is available in the Fitbit App Gallery (this link only works from the mobile phone with your Fitbit app) or from the Pebble App Store.