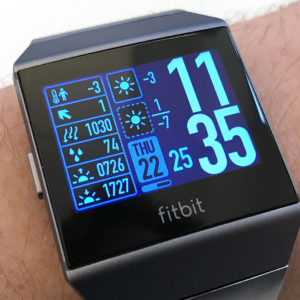 DIN Time 1.3.1 has been released! It includes a workaround for Android users who couldn't use the sliders to set custom colors.  It's not pretty and potentially involves some scrolling, but it should get the job done. Look for "Show alternative Android controls" in the settings!
The main new feature though is the new weather panel! Tap the stats panel to switch to: "Feels like" temperature, Wind direction and speed, Atmospheric Pressure, Humidity, Sunrise and Sunset!
Other fixes and changes:
DIN Time now caches weather data between updates. You should now see less –'s at startup.
Just for fun: A random color theme! Try it, it could turn out great, but odds are that it doesn't. Sometimes it can be used as a starting point for something better.
Removed "Reset colors" in the settings. It's now in the themes list as "White on Black (default)".
A tiny, but to me important, fix to how the frame around the stats is drawn.
More themes!
Rounded corners!