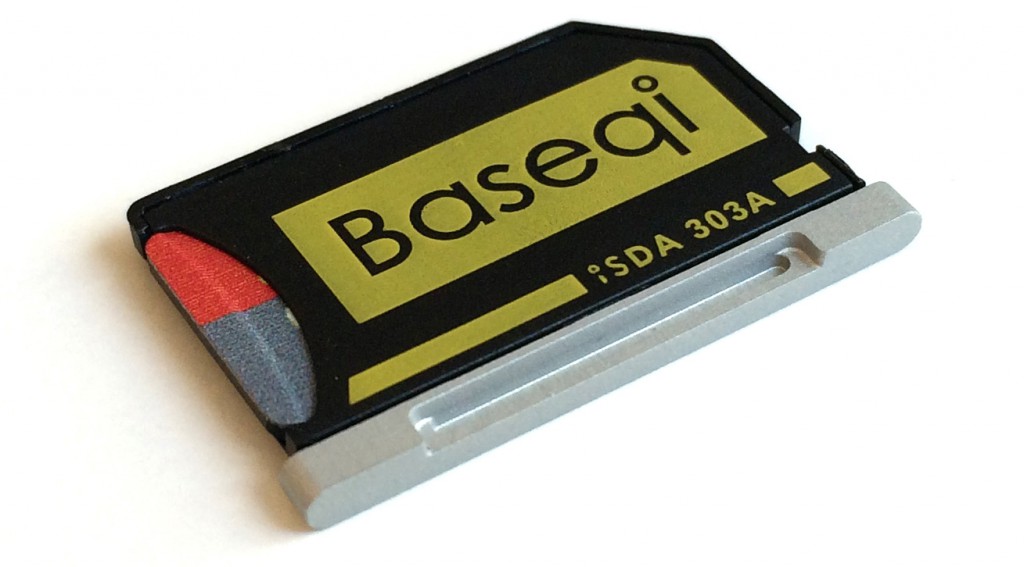 For some time I have been considering a Nifty MiniDrive for my MacBook Pro 13″ with Retina display, to expand the available disk space with up to 64 Gb. The Nifty MiniDrive is a MicroSD card adapter for the built-in SD card reader on the MacBook Pro (It's available for the MacBook Air too.) but much shorter than the adapter card that are often included when buying a MicroSD card.
But I couldn't really justify the cost for what the Nifty MiniDrive really is, a fancy MicroSD card adapter which I didn't necessarily need. Sure, the Nifty MiniDrive is CNC machined aluminum and it sits totally flush with the MacBook casing when inserted, but it's also a bit pricey. So I did a search on eBay and found something similar, but with a less catchy name, the Baseqi iSDA 303A. It was available for less than half the price of the Nifty MiniDrive, including free shipping from Taiwan.
I know some people are very sensitive about buying "knock-offs" like this. I'm not one of those people, especially since the Baseqi adapter doesn't copy the design, logo or artwork of the Nifty MiniDrive.
The Baseqi adapter is available in versions for the 13 inch MacBook Air and MacBook Pro. The latter in two version as it appears as the internals of the built-in SD card reader sometimes isn't perfectly aligned with the outer casing. So make sure you read the instructions when deciding which version to order, you might need version 304A! The 303A fits my MacBook Pro 13″ with Retina display (built in June 2014) .
Features
Since the Baseqi iSDA 303A really is just a MicroSD adapter it doesn't actually do much other than hold the tiny MicroSD card. I have a 64GB SanDisk Mobile Ultra microSDXC Class 10 UHS-I, which you can see inserted in the adapter in the top photo on this page. Reading and writing this card is pretty slow, but it has nothing to do with the adapter. It's entirely the card's fault. If I find myself using this extra drive a lot I might invest is something speedier later on. But for storage of my iTunes library and seldom used files I find the speed is sufficient for me now.
Design
As opposed to the Nifty MiniDrive the Baseqi iSDA 303A doesn't need a special tool to be removed. All you need is a finger nail (not too short though!). I prefer this solution. No need to have a special tool or a paper clip lying around. A tool that might also scratch the MacBook when used.
The color of the aluminum is somewhat darker than what is shown on the photos on ebay and Baseqi's site, but it's nothing that bothers me much. It seems to be well constructed and there are no sharp edges or excess glue. It sits quite flush with the MacBook's casing
The vertical alignment in the SD card reader opening is ever so slightly off, but since centering something in this tiny space is a matter of fractions of a millimeter I'd say the result is good enough. Again, nothing that bothers me.
Conclusion
F0r the price the Baseqi iSDA 303A provides a streamlined and easy way to add extra storage to your MacBook. Don't forget to buy a fast Micro SD card if you think you will use the drive a lot.
Pros
+ Inexpensive
+ Sits flush, almost hidden in the SD card reader.
+ Matches the MacBook design.
Cons
None, really. Apparently having a card in the reader all the time can affect battery life, but according to Nifty MiniDrive's FAQ it's a matter of 4-19 minutes on a full MacBook Pro battery, depending on card type. I can live with that.