These are some of the most frequently asked questions about DIN Time. Please look through them before sending a support request.
Q: I have downgraded my Pebble watch to firmware 4.2 and now DIN Time doesn't work? Where can I get an older version of DIN Time?
Right here! Click the yellow button below to download DIN Time 2.63.
Download DIN_Time_263.pbw (245.8 KB)
---
Q: Can you add support for Celsius/Fahrenheit?
It's already there. Open the settings page (through the Pebble app) and tap the orange circle over the weather icons in the preview image. In the popup that appears you will find a setting for the temperature scale, amongst other things.
---
Q: What does the arrow under the temperature indicate?
It's the current barometric pressure trend; rising, steady, or falling. Generally, if it is pointing up the weather will improve. If it's pointing down it will get worse.
---
Q: How do I read the weather information?
The top box is current weather. To the side of that is the current temperature. Under the temperature is the current barometric pressure trend (see above). The lower, dashed box is the forecast for the rest of the day with the expected high (top) and low (bottom) temperatures. This description is for a rectangular Pebble. If you have a Round it will be different, but the general idea is the same.
---
Q: Can you add support for getting weather data from Weather Underground, Openweathermap, Forecast.io, YR.no…?
At the moment I'm not working on adding support for other weather providers. But It's on my long-term todo list. Unfortunately it's not as as easy as just switching the provider. The weather icons needs to be adapted to the different providers, for example.
---
Q: Does DIN Time have a big impact on the battery life of my Pebble?
DIN Time periodically updates the weather (if set) and that will consume some more power than watch faces without weather. If it is set to update more often, every 30 minutes, the impact on the battery will of course be larger than if set to every 60 minutes. Enabling seconds will also draw considerately more power than when disabled. All that said, according to the statistics available to Pebble developers, DIN Time has been given a battery grade of A. See below.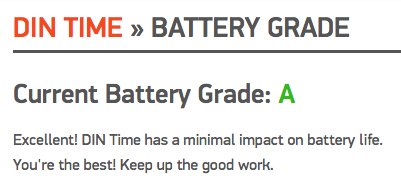 ---
Q: Is DIN Time open source? Will you release it as open source?
No.
---
Q: I tried to install DIN Time/It updated automatically, now all I see is a white dot in the middle of the screen.
DIN Time (from version 2.40) was compiled to work with Pebble watch firmware 3.8. If you still have firmware 3.7 or lower you need to upgrade to 3.8 to be able to use DIN Time.
---